KBA Karat (Di Printing Press)
KBA Karat Digital Printing Presses
---

---
KBA DI presses are available in three models, the 46 Karat (SRA3) waterless offset press and the 74 Karat (SRA2) waterless offset press, with coated and non-coating options.
The Karat's print quality is excellent, waterless inks are vibrant and the inking system is consistently good with no streaking.
Such a high quality four colour digital press available in a range of flexible size formats allow printers to service a huge percentage of the market, with the capability to produce superb quality printed products from leaflets to posters in record time. The Karat 74 with coating even allows the printing of lenticular products, plastics and specialist other materials.
---
Diverse supply superb quality DI presses and press equipment to the UK, Europe and Worldwide and are specialists in Heidelberg, KBA Karat, Presstek and more.
To find out more more about our new products and the range DI presses we have available…
Call us on 0044 (0)161 399 0195
or Send us a message here.
---
Comparing KBA Karat Presses
We compare the KBA Karat 46di, KBA Karat 74di coated and KBA Karat 74di non-coated Printing Press models, all of which are available to purchase today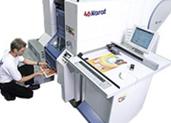 KBA Karat 46DI
Main Features
Eleven inking zones
Fifteen Rollers
Three form rollers
Imaging at max quality – 12min
40IP lazer diodes per head
Formats
Max sheet size
18.11″ x 13.39″ (460 x 340 mm)
Min sheet size
5.5″ x 3.5″ (140 x 89 mm)
Max image area
17.72″ x 12.99″ (450 x 330mm)
Gripper Margin
9 mm
Stock Weights
0.06mm to 0.30 mm
Direct Imaging Resolutions
1,270 dpi / 2,540 dpi
Imaging times
9 mins @ 1270 dpi
12 mins @ 2540 dpi
Blanket Cylinders
Length x width
21.875″ x 13.27″ (555 x 337 mm)
Thickness
0.077″ (1.95mm)
Undercut 0.091″ (2.3mm)
Production Speeds
Maximum – 7,000 sph
Minimum – 1,500 sph
Crawl Mode – 400 rpm
Inking Unit
Number of rollers – 15
Form rollers – 3
Pile Heights
Feeder – 15.75″ (400 mm)
Delivery – 15.75″ (400 mm)
Power
13.5 kw
Physical Dimensions
Length x width x height
10'7″ x 8'8″ x 5'6″
(3230 x 2635 x 1665mm)
Weight
9950 lbs (4,500 kgs)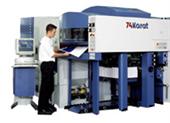 KBA Karat 74DI (coated)
Main Features
Print on lenticular & plastics
Imaging at max quality – 12mins
Waterless green technology
Small footprint
Formats
Max sheet size
520mm x 740 mm
Min sheet size
210mm x 297 mm
Max image area
508 x 735mm
Imaging
2540 dpi at upto 80 lpcm (200lpi)
Gripper Margin
10 mm
Stock Weights
0.06mm to 0.50 mm
Blanket
Length x width
551 x 745 mm
Plate Length
Length x width
551 x 750 mm
Production Speeds
Maximum – 10,000 sph
With inline coating – 8000 sph
Pile Heights
Feeder – 600 mm
Delivery – 600 mm
Power
13.5 kw
Physical Dimensions
Length x width x height
153″ x 83″ x 84″
(3880 x 2200 x 2150 mm)
Weight
13 t (approx)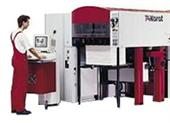 KBA Karat 74DI (non-coated)
Main Features
Anilox Inking System
Imaging at max quality – 12mins
Waterless green technology
Small footprint
Formats
Max sheet size
520mm x 740 mm
Min sheet size
210mm x 297 mm
Max image area
508 x 735mm
Imaging
2540 dpi at upto 80 lpcm (200lpi)
Gripper Margin
10 mm
Stock Weights
0.06mm to 0.50 mm
Blanket
Length x width
551 x 745 mm
Plate Length
Length x width
551 x 750 mm
Production Speeds
Maximum – 10,000 sph
With inline coating – 8000 sph
Pile Heights
Feeder – 600 mm
Delivery – 600 mm
Power
13.5 kw
Physical Dimensions
Length x width x height
153″ x 83″ x 84″
(3880 x 2200 x 2150 mm)
Weight
13 t (approx)