Heidelberg four colour presses are are fully automatic, featuring sheetfed, waterless digital printing. DI digital presses remove the expense of prepress reprographic film, platemaking as well as the mess, time and other expenses normally associated with off press imaging.
Files are transferred digitally to the press RIP. The press then images the digital files directly to plates which are already mounted and advanced onto each of the four plate cylinders.
The QMDI press can cost effectively produce four-color process up to a maximum size of 13 by 17.75 inches at up to 10,000 impressions per hour.
Diverse supply superb quality DI presses and press equipment to the UK, Europe and Worldwide and are specialists in Heidelberg, KBA Karat, Presstek and more.
To find out more more about our new products and the range DI presses we have available…
We compare the Heidelberg DI46 Classic, Heidelberg DI46 Plus and Heidelberg DI46 Pro Printing Press models, all of which are available to purchase today.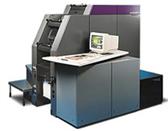 Heidelberg DI46 Classic
Main Features
Eight inking zones
Three form rollers
Imaging at max quality – 8 mins
Eight lazer diodes per unit
Formats
Max sheet size
18.11″ x 13.39″ (460 x 340 mm)
Min sheet size
5.5″ x 3.5″ (140 x 89 mm)Max image area
17.72″ x 12.99″ (450 x 330mm)
Gripper Margin
10 mm
Stock weights
0.06mm to 0.30 mm
Direct Imaging Resolutions
1,270 dpi / 2,540 dpi
Imaging times
16 mins @ 1270 dpi
22 mins @ 2540 dpi
Blanket Cylinders
Length x width
21.875″ x 13.27″ (555 x 337 mm)
Thickness
0.077″ (1.95mm)
Undercut 0.091″ (2.3mm)
Production Speeds
Maximum – 10,000 sph
Minimum – 3,500 sph
Crawl Mode – 500 rpm Inking Unit
Inking Unit
Number of rollers – 12
Form rollers – 3
Pile Heights
Feeder – 19.29 " (490 mm)
Delivery – 17.72″ (450 mm)
Power
Current consumption at 50/60 Hz – approx 10.5 kw
Physical Dimensions
Length x width x height
96″ x 100.39″ x 74.8″
(245 x 255 x 190 cm)
Weight
8,378 lbs (3,800 kgs)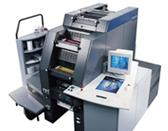 Heidelberg DI46 Plus
Main Features
Twelve inking zones
Three form rollers
Imaging at max quality – 8 mins
Sixteen lazer diodes per unitDifference from DI Classic is faster imaging via twice the number of lazer diodes.
Formats
Max sheet size
18.11″ x 13.39″ (460 x 340 mm)
Min sheet size
5.5″ x 3.5″ (140 x 89 mm)Max image area
17.72″ x 12.99″ (450 x 330mm)
Gripper Margin
10 mm
Stock weights
0.06mm to 0.30 mm
Direct Imaging Resolutions
1,270 dpi / 2,540 dpi
Imaging times
16 mins @ 1270 dpi
22 mins @ 2540 dpi
Blanket Cylinders
Length x width
21.875″ x 13.27″ (555 x 337 mm)
Thickness
0.077″ (1.95mm)
Undercut 0.091″ (2.3mm)
Production Speeds
Maximum – 10,000 sph
Minimum – 3,500 sph
Crawl Mode – 500 rpm Inking Unit
Inking Unit
Number of rollers – 12
Form rollers – 3
Pile Heights
Feeder – 19.29 " (490 mm)
Delivery – 17.72″ (450 mm)
Power
Current consumption at 50/60 Hz – approx 10.5 kw
Physical Dimensions
Length x width x height
96″ x 100.39″ x 74.8″
(245 x 255 x 190 cm)
Weight
8,378 lbs (3,800 kgs)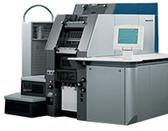 Heidelberg DI46 Pro
Main Features
Twelve inking zones
Three form rollers
Imaging at max quality – 8 mins
Sixteen lazer diodes per unit Difference from DI Plus is modified stream feeder with side and front lays for more accurate registration
Formats
Max sheet size
18.11″ x 13.39″ (460 x 340 mm)
Min sheet size
5.5″ x 3.5″ (140 x 89 mm)
Max image area
17.72″ x 12.99″ (450 x 330mm)
Gripper Margin
10 mm
Stock weights
0.06mm to 0.30 mm
Direct Imaging Resolutions
1,270 dpi / 2,540 dpi
Imaging times
16 mins @ 1270 dpi
22 mins @ 2540 dpi
Blanket Cylinders
Length x width
21.875″ x 13.27″ (555 x 337 mm)
Thickness
0.077″ (1.95mm)
Undercut 0.091″ (2.3mm)
Production Speeds
Maximum – 10,000 sph
Minimum – 3,500 sph
Crawl Mode – 500 rpm Inking Unit
Inking Unit
Number of rollers – 12
Form rollers – 3
Pile Heights
Feeder – 19.29 " (490 mm)
Delivery – 17.72″ (450 mm)
Power
Current consumption at 50/60 Hz – approx 10.5 kw
Physical Dimensions
Length x width x height
96″ x 100.39″ x 74.8″
(245 x 255 x 190 cm)

Weight
8,378 lbs (3,800 kgs)